In Character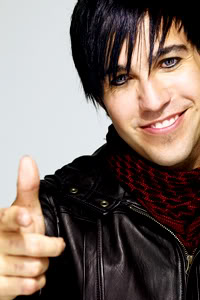 Name: Jared Evans
Nicknames: Jay
Gender: Male
Year AND Age: 17, 6th Year
Preferred houses (state 2): Ravenclaw/Slytherin
Birthday - Month/Day/Year: July, 20th, 1996
Blood Status: Half-Blood
Race: (vampire/werewolf, witch/wizard) Wizard
Height: 5,8
Hair: Black
Eye color: Silver
Build: Average
Other distinguishing features: Has a tattoo sleeve on both left and right arms
Personality(one paragraph):
Jared has always been the one to speak out when he doesn't think something is right.
His mouth has gotten him into a lot of trouble over the years, including getting exposing the fact that he is a wizard to a pare of Muggles- whoes memories were quickly altered by the ministry- which earned him suspension from Hogwarts for his entire third year. Albus Dombledor and Siverus snape both are particularly fond of him, but as for the rest of the teachers- they look for ways to get him locked in detention all week.
Skills
- Potions
- Acient Runes
- Fooling others
- Quick Learner
- Creativity
Weaknesses/Flaws
- Overconfadence
- Indapendents
- Must have the last word
- Stuborn
- Too easily Amused
Likes
- Having Authority
- Magic
- Music
- Sports
- Dueling
Dislikes
- Muggles
- Restrictions
- Homework
- Punishments
- Losing
Motto: "When Karma 's a bitch, We make our own luck"
Family
Father: Jake Williams
Mother: Lily Evans
Half-Brother: Harry Potter
History(two paragraph or more):
Jake Williams was a muggle man that Lily Evans had known her entire life. Even when she told him that she had to go away for boarding school (Hogwarts) he waited for her to return each year, but when they began dating when Lilly was sixteen, there was some big news for Jake to consider. Lily announced to Jake that she was pregnant with his child, and he took off. Jake never came back, leaving Lily with only two options; To raise her child by herself, or to put her son up for adoption. At that time, Adoption was the only thing she thought she could do. So her son, became an orphan, and nobody in her family, or at Hogwarts, knew about it.
Lily Evans' son, Jared Evans.
Short Role play(one paragraph):
"And what exactly do i have to look forward to when i get back to the orphanage?", Jared snarled, his fingered curled around his wand that rested in his pocket. Severus Snape's expression turned to one of bitterness. "Has it ever occurred to you that you could stay at Hogwarts over the summer, Evans?", Snape asked in his usual drawing voice. Jared blinked, that idea hadn't occurred to him. He sighed, now he was taking advice from a professor? Even if it was Snape, it still didn't feel right to accept his advice. Jared released his grip on his wand and walked out of the potions classroom.
Did you PM the admin the site password? (Which Admin) Jade Green